The mint-coated breath capsule you swallow.
Zelmin's helps you smell good and feel good - inside and out. A clinically tested breath freshener, with the natural benefits of cold-pressed parsley seed oil.
Here's how it works.
POP 2-3 IN YOUR MOUTH.

Use our mint-coated parsley seed oil capsules after you eat, before a kiss... or whenever you want fresh clean breath.

GET TO THE GOOD STUFF.

Suck the mint coating, then swallow the capsule inside. Or, try chew it all together for a bold burst of herbal flavor.

GET INSTANT FRESH BREATH.

Be confident. Get closer. You've got fresh breath that will last for hours, no matter where you go or what you do.
Here's the science.
Parsley seed oil helps fight odors that cause bad breath (even from garlic & onions).
That's why we pack each Zelmin's capsule full of it, then coat it with over 50 micro-layers of powerful mint, for long lasting freshness whenever you need it.
Layers (and layers) of benefits.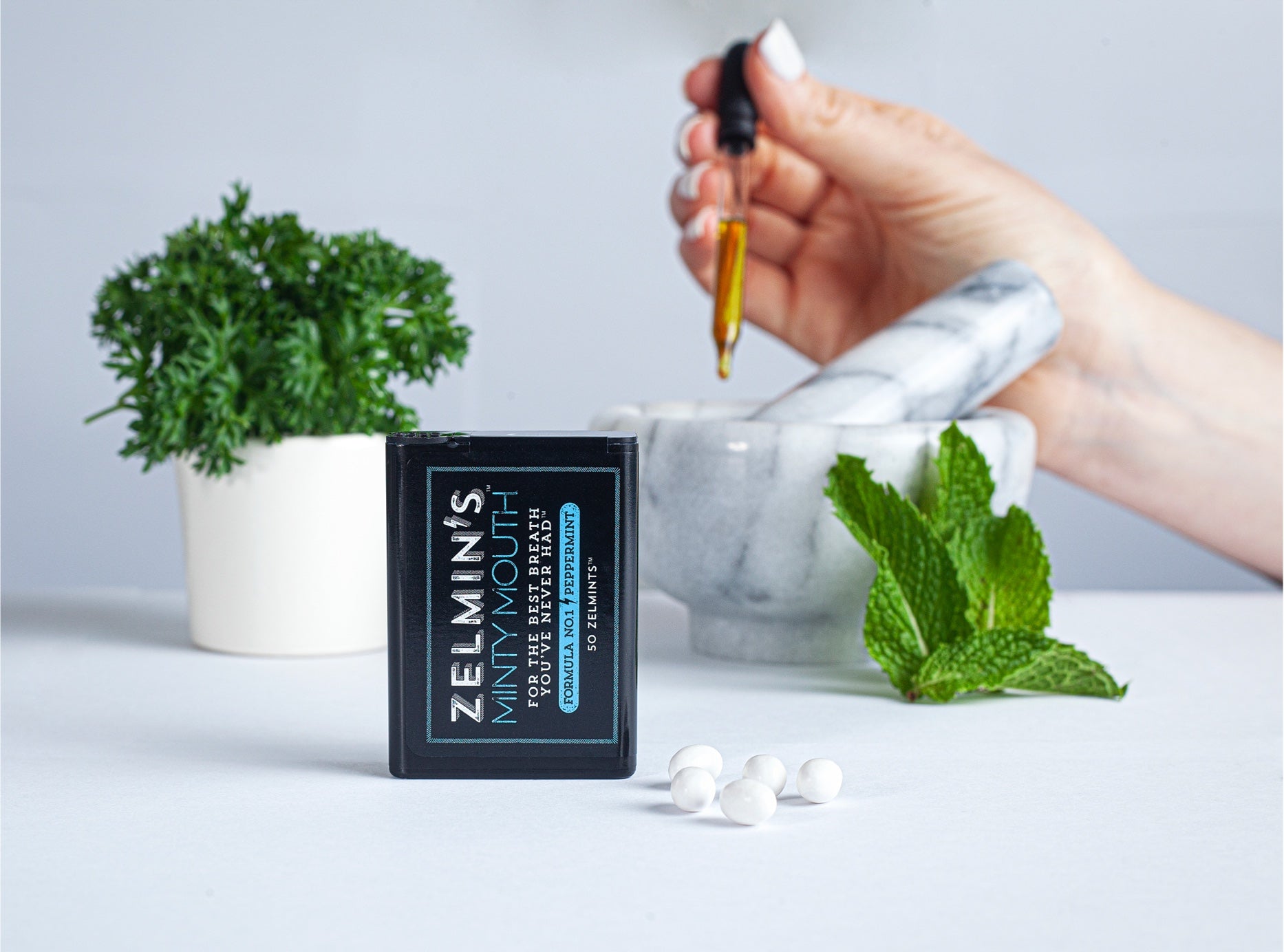 What's inside matters.
Zelmin's contains a powerful mint exterior with a concentrated blend of parsley seed and sunflower oils inside a chewable gel capsule.
Outside: Sucrose, Gum Acacia, Mint, Titanium Dioxide, Carnauba Wax, Menthol 
Inside: Sunflower Seed Oil, Parsley Seed Oil, Kosher Gelatin, Glycerin
Keto Friendly

Gluten Free

No Alcohol

Each serving of Zelmin's has less than 1 gram of sugar.
We worked hard to develop a bad-breath-fighting formula that still uses natural sugar (no fake stuff here), and tastes great.
Ready to do this?
Join the millions who love the confidence of fresh breath. Love us, or your money back ⚡️
JOIN OUR MAILING LIST
Fresh deals & product updates...no spam.